Hulu, a prominent streaming platform known for its vast library of movies, TV shows, and original content, has recently faced an unexpected challenge. Numerous loyal users have reported a baffling issue: the disappearance of the beloved Hulu 'Continue Watching' option.
For avid viewers accustomed to seamlessly picking up where they left off, the sudden absence of the Hulu 'Continue Watching' feature has caused significant disruption in their streaming experience. Without this feature, users find themselves clueless about the episode they were last watching.
The 'Continue Watching' option on Hulu is a convenient feature that allows users to pick up where they left off in a TV show or movie they were previously watching. It appears as a section on the Hulu Home page, typically located at the top, displaying a list of shows and movies that the user has partially viewed.
When users click on the 'Continue Watching' section, they can easily resume playback from where they stopped, without the need to search for the show or movie again manually. This feature enhances the user experience and provides a seamless streaming journey for viewers, enabling them to keep track of their progress across different content.
However, as mentioned earlier, some users experienced a recent issue where the 'Continue Watching' option went missing from the Home page, causing frustration and inconvenience. Hulu acknowledged the problem and is actively working to fix it. While the platform is addressing the issue, it provided users with possible fixes to try and alleviate the problem temporarily.
Hulu, majority-owned by Walt Disney, is renowned for hosting popular shows like The Bear and Only Murders in the Building, making this issue particularly concerning for its widespread user base.
Hulu 'Continue watching' option disappears
Starting on Wednesday, August 2, a significant number of users discovered that the popular Hulu 'Continue Watching' feature had disappeared. This feature allows users to easily pick up where they left off in a TV show or movie they were watching.
The issue of missing Hulu 'Continue watching' option is not new. It has resurfaced after 2.5 years.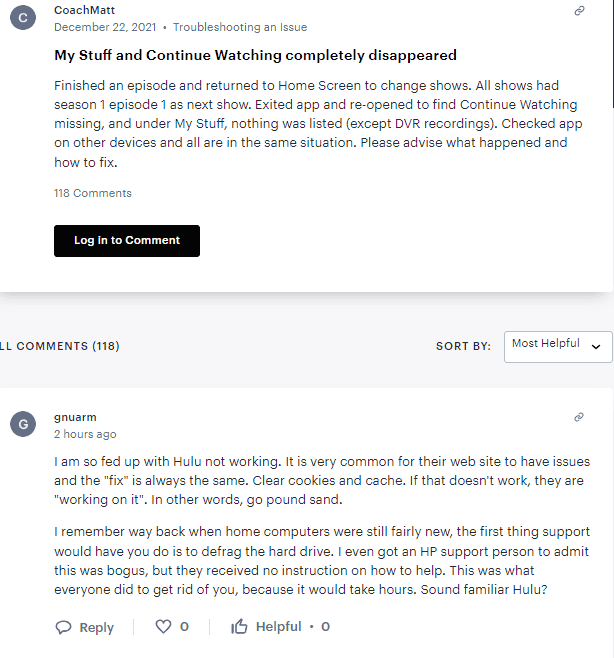 Normally, all the shows and movies users are currently watching appear at the top of Hulu under the 'Continue Watching' tab. However, this whole section has gone missing for thousands of users this week, leading to growing frustration on Twitter as the issue persists.
Users have been expressing their dissatisfaction with the situation on social media. Some are finding it challenging to locate the point where they left off in their favorite shows or movies. Without the Hulu 'Continue Watching' feature, subscribers have to manually search for and resume their viewing, which is time-consuming and inconvenient.
This problem has caused discontent among Hulu users, and some are even considering switching to other streaming platforms due to the lack of this essential feature.
As of now, Hulu has not officially addressed the issue or provided a solution. Users are eagerly awaiting a response and resolution to restore the Hulu 'Continue Watching' feature, which has become integral to their streaming experience on the platform.
Has Hulu acknowledged the missing 'Continue watching' option issue?
When the issue was reported at the end of June, following the user complaints regarding the missing 'Continue Watching' feature, Hulu acknowledged it and assured its users that their team was actively investigating the matter.
In response to user inquiries, the Hulu support team claimed that the 'Continue Watching' option was still available on the platform. However, users might need to scroll down on the Home page to locate it. They provided a link (https://hulu.tv/WatchHistory-) to direct users to their watch history page, where the 'Continue Watching' section should be accessible.
To address any potential difficulties users may be faced with finding the feature, Hulu has also offered some tips to enhance the user experience. These tips can be found at https://hulu.tv/AppLoadHelp-.
As the situation unfolds, it appears that some users were expressing dissatisfaction with the new placement of the 'Continue Watching' feature on Hulu's Home page. They voiced their preference for the feature to be reinstated to its previous position at the top of the screen. These concerns have been raised through various criticisms on social media and other platforms.
While Hulu's support team has acknowledged the issue and is actively investigating, it remains uncertain whether the platform will revert the 'Continue Watching' feature back to its original location. Affected users are advised to exercise patience while the team works on resolving the problem.
By acknowledging the issue and offering potential solutions, Hulu aims to alleviate the frustrations of its user base and restore the seamless streaming experience they expect from the platform.
As we continue to monitor the situation for further developments, we will provide updated details as new information becomes available. Rest assured, efforts are being made to address the concerns of the user community and restore the seamless streaming experience that users have come to expect from Hulu.
What are possible workarounds to missing Hulu 'Continue Watching' option?
If the Hulu 'Continue Watching' option is missing on your Hulu app or account, it could be due to a technical issue or a temporary glitch. Here are some steps you can take to try and resolve the problem:
Fully Close the Hulu App: Exit Hulu completely, along with any other apps or programs running in the background. Then, try reopening Hulu again.
Check Your Internet Connection: Run a speed test on your device and compare the results with Hulu's recommended speeds. If your connection falls short, follow steps to improve it.
Perform a Power Cycle: Turn off your device, and if applicable, also power off the modem and router. Wait for a few minutes, then power everything back on.
Test Other Apps or Programs: If you experience similar issues with other apps or programs, it might be due to poor connectivity. Contact your internet service provider for assistance in improving your connection.
Check for Hulu App and System Updates: Make sure to check for updates for the Hulu app through your device's app store and any system updates through your device's settings menu.
Clear Cache and Data: Clearing cache and data from your device's settings menu can remove temporary files and free up needed space, which might help with the issue.
Deactivate and Reactivate Your Device: Remove the device from your Hulu account page, and then reactivate it. Try launching Hulu again after this process.
Uninstall and Reinstall Hulu: On certain devices, uninstalling and reinstalling the Hulu app might help alleviate streaming issues.
Try on a Different Device: If possible, try accessing Hulu on a different device to see if the 'Continue Watching' option appears there. This can help determine if the issue is specific to one device or account.
Contact Hulu Support: If none of the above steps work, reach out to Hulu's customer support. They can provide further assistance and investigate the issue on their end.
By following these steps, users may be able to resolve the issue or improve their streaming experience until Hulu fully resolves the 'Continue Watching' problem.
It's worth noting that sometimes, issues like this are on Hulu's end and may require some time for their team to resolve. In such cases, patience is key, and the Hulu 'Continue Watching' option should be restored once the problem is fixed.