One of the issues with a USB flash drive is that the important and sensitive data stored on it can easily leak if you don't protect it with a password. If it happens to you, how do you protect a USB drive with a password now? If it is not yet or still don't know how to solve it, follow this post to learn how to protect a USB drive with a password.
What is USB encryption software?
As the name implies, USB encryption software can protect the data stored on USB flash drive from being viewed by unauthorized users. Irrespective of the reason, USB drive damage or loss can put your data at risk, so if you want to keep data secure on USB drive, you need at least one USB encryption software to keep your data stored on USB drive safe. What best USB encryption software do you know of?
Here is our list of the best free and paid USB encryption software to encrypt a flash drive.
BitLocker
iSunshare SafeUSB Genius
How to Password Protect a USB Drive with BitLocker
BitLocker is a Microsoft Windows security and encryption feature that encrypts everything on which Windows is installed. If you want to know how to encrypt a USB drive with BitLocker, you first need to know if your computer system meets the following specific requirements.
Requirement:
Windows 10/11: Education, Pro, Enterprise edition
Windows 8: Professional or Enterprise edition
Windows 7: Enterprise or Ultimate edition
Now let's discuss how to password protect a USB drive with BitLocker.
Step 1: To keep data secure on USB drive, simply plugged your USB drive into your computer.
Step 2: Right-click on the drive in File Explorer and select Turn on BitLocker.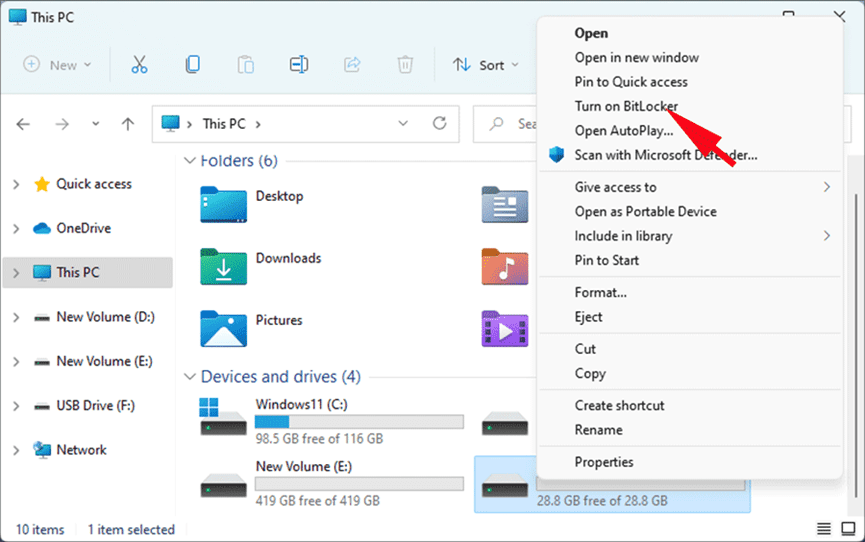 Step 3: Set a secure password provided to unlock the drive.
Step 4: Then choose where you'd like to backup the recovery key.
Step 5: After that, choose how much of your drive to encrypt, and click on Next.
Step 6: In the next step, choose which encrypt mode to use, and click on Next.
Step 8: Now, you need to click on Start encrypting to be ready to encrypt this drive.
Step 9: Wait for encrypting your USB drive, it takes a while so you should be patient.
Step 10: Once it's done, click Close in the Windows that pop up.
Pros
Cost-free
Quite safe with efficient PIN and password management
Cons
Slow encryption speed
iSunshare SafeUSB Genius is encryption software that can help Windows users encrypt USB flash drives by setting a password and creating a virtual disk on a USB drive. You can attach great security to the USB drive using iSunshare SafeUSB, let's see how does it work?
Step 1: Download iSunshare SafeUSB Genius to your computer, and launch it after installation.
Step 2: On the main interface, select the drive and then click the Encrypt button.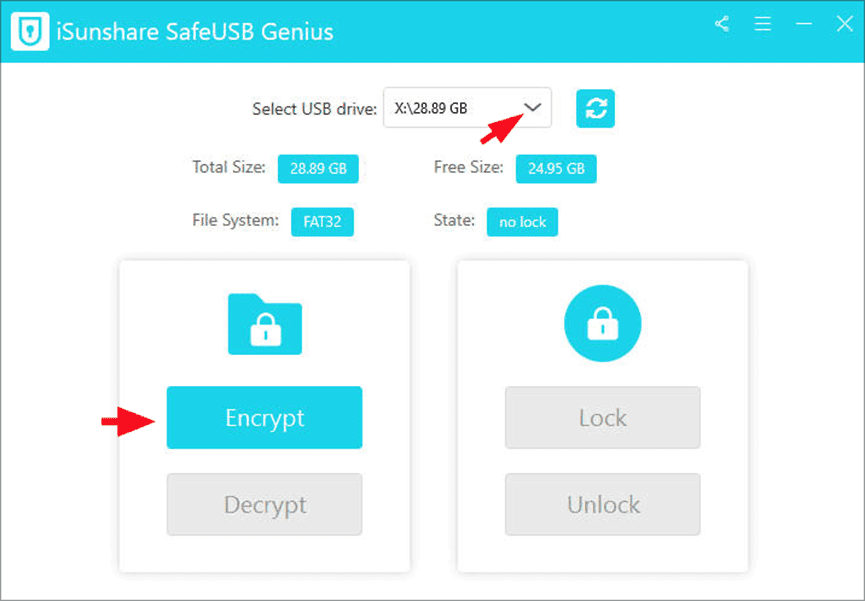 Step 3: Then enter and confirm a password for drive encryption, and then click on Encrypt to start encrypting.
Step 4: When prompt Encrypted successfully, click on OK to complete.
Pros
User-friendly interface
Encryption USB drive with a simple clicks
Effective and safe
Cons
No cost-free
Conclusion
That's all about what is USB encryption software and how to protect USB drives with a password with free and paid software. They are simple yet powerful encryption tools that make your USB flash drive and external hard drive more secure. With BitLocker, you can encrypt your USB flash drive to keep it away from spying safely, although time-consuming. If you use iSunshare SafeUSB Genius, you can password-protect a USB flash drive in just four easy steps. Encrypting your USB drive can hardly wait because you won't necessarily lose your flash drive, happens to the best of us. Hope this helps!