During the past few days, the internet is flooded with issues pertaining to wake-up alarms not going off, especially on Google Pixel phones. Many individuals rely on their smartphone applications to remind them of future obligations. This includes apps like the basic Google Clock, which is included on nearly every Android device. Now, it appears that the programme has a problem, leading many users to miss their pre-set alarms.
As a matter of fact, a majority of users are facing the brunt of waking up late and missing their meetings or even showing up late to work.
While the new feature broke the chain of waking up to siren-ing alarm tones on Android phones, there have been comments by Redditors where the users were utterly disappointed.
Several Google Clock customers are having trouble getting their alarms to ring while they are in DND mode. Users have observed that the issue has surfaced after the last August update to the app. However, the issue is not new to some. Google Clock app was last updated in November 2019 post which the alarm issues began to appear following the December security upgrade.
Many discovered that the Google Clock app wake-up alarm bug appears to have bumped off after the Spotify app got updated recently. They had tied Spotify to alarm set-up for ensuring a better start to their days. They found notifications of missed alarms popping up on their screens. Several users have also reported that Spotify's alarm is a hit or miss feature, referring to a bug that surfaced after a new update.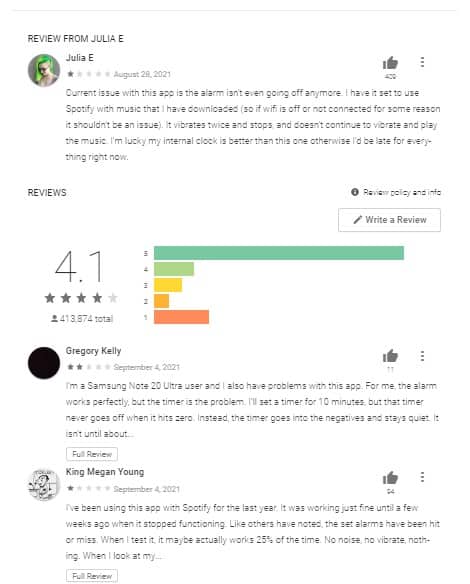 Recent one-star ratings on the Google Clock app in the Google Play Store also complain of planned alarms do not go off and that no notice or noises are heard. Majorly the complaints have come from Pixel users. It makes sense because it is the default clock app. However, complaints are also pouring in from devices such as OnePlus, Oppo, and other brands.
Android users who set morning alarm tones to Spotify playlists in the Clock app's sleep area have reported that their smartphone vibrates once and then their alarm vanishes. Further, it leaves behind a "missed alarm" warning.
Initially, there were a few complaints, but now it seems that the entire internet is expected to blow up with a multitude of users reporting the missed Google Clock app alarm bug.
Workaround to Google Clock app wakeup alarm bug
Google Clock alarm NOT tied to Spotify playlists
Thankfully, Google has acknowledged the issue of "Alarms are not working in clock". It has logged the bug in its issue tracker on 31st August and"Assigned" to its product and engineering teams.
Till the time, Google rolls out the patch, those who have not tied their alarm to Spotify can opt to uninstall the Google clock application and re-install the same, empty cache, and adjust settings. This might be a possible respite but this is not a reliable solution to the problem.
There is one user tested solution to the Google Clock alarm issue on DND mode. Posted on Reddit, check it out and share with us if you have been to resolve it temporarily.
Google Clock alarm tied to Spotify playlists
The technical team of Spotify has addressed the issue and the technical glitch or bug will apparently get resolved with their new update. Hopefully, one will see the solution in the next update planned next week.
In the meantime, the best one can do is switch back to system sounds until a stable update is released.
Hopefully, Google will also provide a Clock app update to address this vexing but significant problem. Meanwhile, if you rely on the app to remind you of critical responsibilities, you might consider downloading a second clock or alarm app as a backup.
Update as of September 13
Google has responded to the alarm clock bug. Working with Spotify, both have released the updated versions on the Playstore. Users are recommended to download the latest Clock and Spotify app and update it.