The latest flagship series, the Galaxy S21 series from Samsung, was announced in January 2021 and has turned out to be a beast with powerful specifications. Although, this is a flagship range from Samsung and, hence, loaded with the latest firmware. However, they have not been free of a few bugs since the launch. Currently, Galaxy S21 users are facing bugs related to audio and notifications. Of late users are facing annoying random Galaxy S21 volume drop and partial text notification sounds.
The Galaxy S21 series is the flagship series from Samsung. The Galaxy S21 series consists of four smartphones-Galaxy S21, Galaxy S21 Plus, Galaxy S21 Ultra, and Galaxy S21 FE.
What is the Samsung Galaxy S21 volume drop issue?
Many users are facing the error of Samsung Galaxy S21 volume drop randomly when it comes to notifications. They are reporting random stop and play of notification sounds. After playing a portion of the notification tone, the sound drops and then resumes to complete after a few seconds. This has caused delays in getting notifications of important messages.
Users are poring their annoyance over the Galaxy S21 volume drop glitch on social media sites as well as community forums.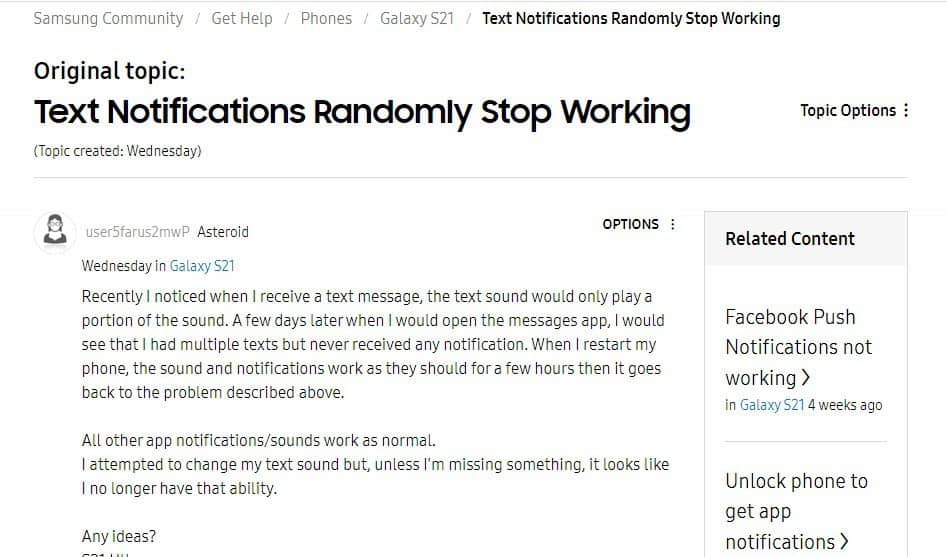 According to what a user shared on Reddit, the Notification sound pauses off midway and resumes a couple of seconds later. Although the notification sound plays at the right time whenever the device received the message however it plays the notification tone for a moment and then continues for a short while. The user further claims that the remaining portion of the notification sound plays after 5 seconds and this has been happening for months.
The Samsung Galaxy S21 volume has reportedly been bugged to the point where the smartphone's audio drops down. Further reports claim that the sound quality worsens when paired with a Bluetooth device.
According to what a user shared on Reddit when he connected his Samsung Galaxy S21 Ultra to his Bluetooth speaker, the music volume was really low even though the speaker's volume was at its max. He later connected his iPhone and tried playing the same music via the same platform and the volume was better than before. Upon doing the same on different phones (iPhone and Samsung) and different apps (like, Spotify and Soundcloud). He came to the conclusion that there was a sound glitch in his smartphone.
Another claim came from a user when the audio automatically was lowered from 100% to 75% while listening to any sounds.
What can be done to fix Galaxy S21 volume drop?
Although, we suggest you wait for an official firmware update but if you own an Android, you have the right to customisation, unlike iPhone. We found a few apps that might do their part to fix Galaxy S21 volume glitch. There are tons available in the Play Store when you search for "Volume Booster".
Other suggested workarounds are a network reset on the phone that will clear up all the wifi and also carry out a reset on the speaker. Also, clear the cache partition from recovery mode.
It is always advisable to report the S21 volume drop issue to Samsung customer support. All you have to do is to open the Samsung Members app > Get Help > Error Report. Share the device model number and software version as well. It can be accessed from (settings > about phone > software information > build number (last 4 digits)).
Summing It Up
The flagship range of Samsung has seen such issues in the past models as well. However, most of them were fixed in the later firmware updates. As of now, there is no official notice from Samsung yet regarding these issues.
Apps like "Bass Booster-Volume Booster" etc can be used to push your volume level temporarily.
Our suggestion would be to wait for an update as the tech giant might not have officially spoken anything about it. However, they might be working hard for a fix.
If you know of any other fix for this, do let us know in the comment section. We will update this article as additional patches become available.