The emergence of cryptocurrency has revolutionized how people earn, invest, and trade, offering a new medium of exchange. If you work in finance, fintech, or a related industry, the term "cryptocurrency trading" should be familiar to you. This type of financial operation has gained significant popularity in recent years. As more and more people enter the market, the demand for custom trading software development is rapidly increasing.
Creating top-quality trading software is quite a challenging task. Such a solution needs to offer a wide range of features, comply with industry standards, perform exceptionally well, and fulfill many other specifications that have to be kept in mind throughout the development process. Geniusee can easily handle all these challenges and provide you with all answers to your questions. How does it work? What should you consider at the first stage? How much does it cost? In this article, we will provide you with the information you need to know about developing custom trading software. Let's explore!
The global online trading platform market was worth $8.28 billion in 2020, according to Fortune Business Insights. The COVID-19 pandemic has contributed to the surprising growth of this market as the demand for online trading solutions rose in response to the global lockdowns. Despite only experiencing 3.7% growth in 2020, the market's CAGR has reached 5.1% and is predicted to remain at this level in the years to come. Experts predict that the market will expand to $12.16 billion by 2028. Impressive figures, aren't they?
Moreover, Markets and Markets conducted research that estimated that the global cryptocurrency market was worth $1.6 billion in 2021 and is expected to grow at a CAGR of 7.1%, reaching $2.2 billion by 2026. These statistics illustrate the consistent and rapid growth of the trading industry as a whole. As a result, it makes sense for fintech and financial companies to invest more in brokerage software development.
Essential Components for Trading Applications
Below our experts describes some of the key components that should be included in your trading app development process: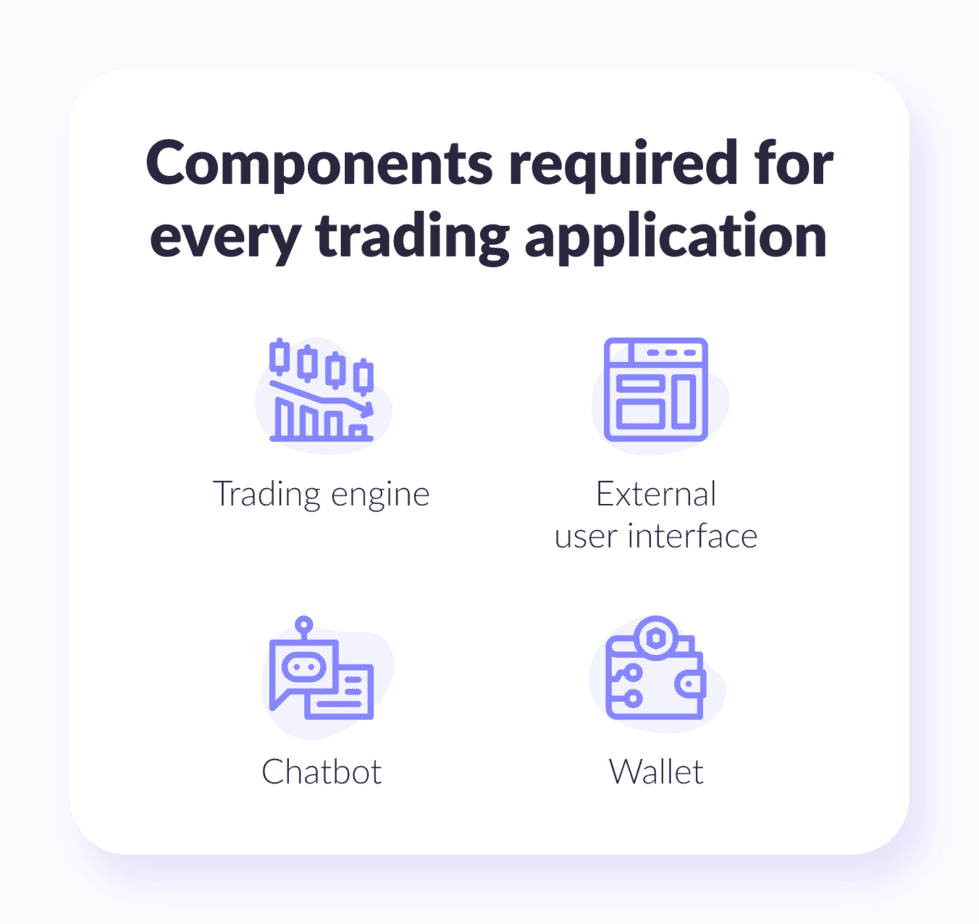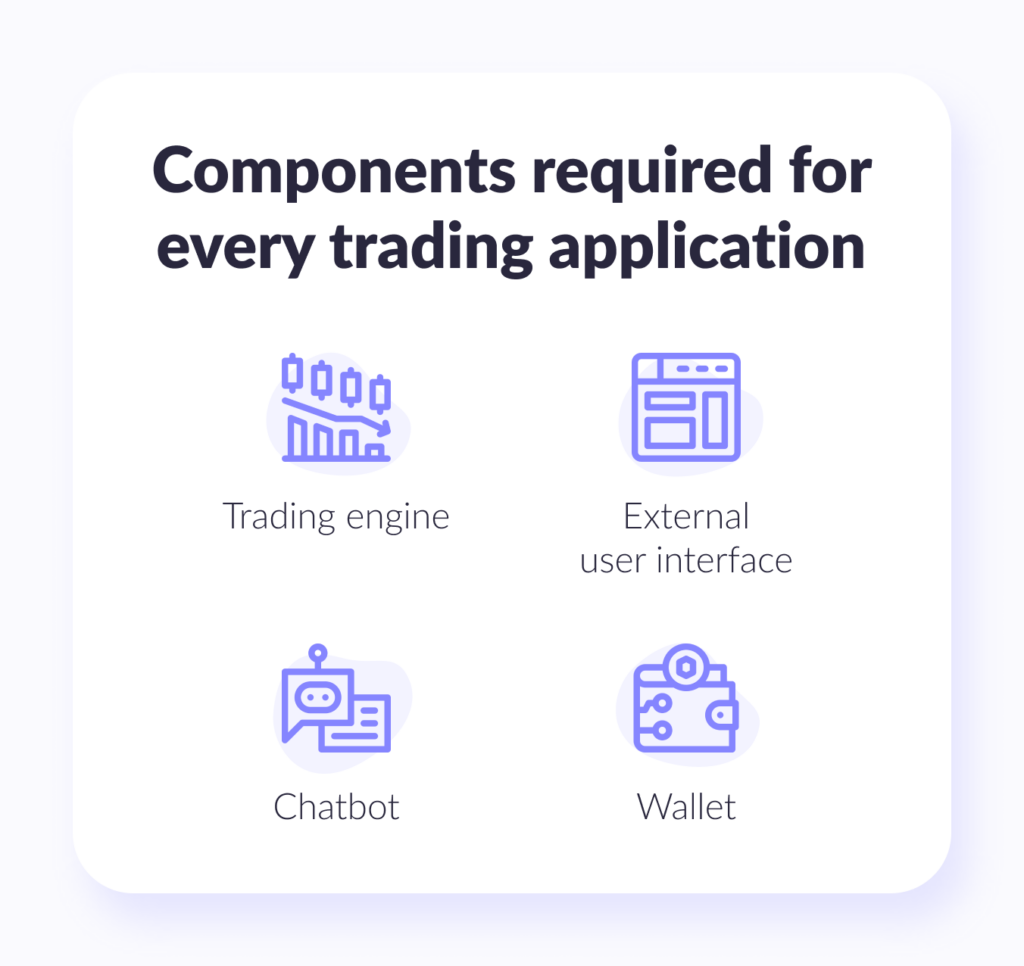 Trading Engine
It will serve as the foundation of your exchange platform and will handle all operations. Select a trading engine capable of computing balances, executing transactions, managing the order book, and keeping track of all exchange transactions. A robust and functional trading engine is essential when building a cryptocurrency app.
External User Interface
As the name implies, it will be the public-facing aspect of your application. You should have a smooth and user-friendly interface to ensure that users can navigate your platform with ease. The intuitive interface of your crypto trading app should offer a hassle-free trading experience. Remember that a simple app with solid features is better than a flashy app with too much clutter. Some of the key features your app should have are:
User registration and login
Deposits
Order book checking
Statistics and charts
Transactions
Help/support
Buy/sell orders
Wallet
Chatbot
Adding a chatbot to help users resolve their issues provides an additional support function.
Wallet
A robust wallet with advanced encryption features and bank-grade security is essential for the smooth operation of cryptocurrency trading apps.
Admin Panel: As a provider or owner of a mobile app, you will need to manage various aspects of the exchange. While you can add additional features per your requirements, every admin console should have features for managing listings, adding new currencies, editing trading fees, crediting/withdrawing funds from wallets, and more.
Name Your Application
An easy-to-remember domain name should be short, without confusing characters, and have a high search volume to increase traffic to your online resource.
Are you thinking of launching your own crypto trading app? Check out the guide to help you get started:
Conduct market research to identify what your competitors are offering. Also, engage with potential users to understand their needs and challenges with existing crypto apps. This information will help you create a user-friendly app with unique features that will stand out in the market.
To avoid any regulatory delays, seek legal advice to understand your jurisdiction's formalities and licensing requirements. In the US, operators of Bitcoin and other crypto money transfer activities must obtain the necessary licenses.
Developing a crypto trading app requires adequate funding. Planning for operating expenses until the business becomes profitable is essential to avoid halting progress midway.
Collaborate with a reliable technology solution provider who can handle the entire process of building your app. Look for a company that offers regular solutions and charges a monthly or yearly fee. Your app will require frequent updates and fixes, so having a technical expert on your team to manage these aspects is beneficial.
Work with your solution provider to determine the best technology stack for your app. A top-notch stack can enhance the functionality and appeal of your application.
Ensure that your app can synchronize with other existing apps. By integrating with other trusted applications, you can increase liquidity and decrease liquidity problems. Invest in a modern API that facilitates the distribution of liquidity and trading volume between two trading apps.
Collaborate with a payment processor that provides the lowest transaction rates and is compliant with cybersecurity practices. Be cautious of hidden fees, and make sure to have your legal adviser review the documents before making a deal. Ensure that your payment processor is PCI-compliant to mitigate the risk of cyber threats.
Prioritize security when developing your cryptocurrency app. Utilize the best technology stack available and host your project on a secure platform. Request that your tech partner uses offline cold storage wallets, encrypted databases, and two-factor authentication to secure your app. Since cryptocurrencies are often targeted by cybercriminals and hackers, it's crucial to build your mobile crypto app with the most powerful security features.
After your app is developed and you have integrated all the necessary features, it's essential to test the app before launching it. This can be accomplished by conducting beta testing to detect and fix any bugs or issues.Beta testing by real users is an important step to take when launching a cryptocurrency trading app.
Once you are satisfied with the results of the beta testing, it's time to market and promote your new mobile crypto app. Reach out to crypto news outlets and have them help spread the word about your startup. If you have a limited marketing budget, you can focus on free social media advertising until you establish a strong client base.
Providing excellent customer support is crucial right from the start. Many crypto mobile apps have chatbots that only offer pre-recorded responses or delayed replies. If you genuinely want to connect with your users and help them with any system errors, ensure that your team is attentive and prepared to assist. They should be capable of addressing complaints and technical issues satisfactorily, and respond promptly to user inquiries. You can implement a ticketing system to instill trust in your users.
Cryptocurrency laws are changing rapidly, so you will need a legal team to ensure compliance and manage disputes at every level. The legal team will be able to navigate all national and international jurisdictions, making it easy for various users to trade on the app. An in-house compliance team can help keep everything running smoothly.
How Much Can It Cost To Build A Crypto Trading Platform?
Developing a high-quality cryptocurrency trading platform requires a dependable app development partner and robust cybersecurity features. The cost of creating a trading app that matches the quality of established players in the market can range from $57,000 to $98,000, although this is just a rough estimate. If you plan to create a website for your trading platform, the cost could increase to $135,000. Once you have calculated the initial capital, you must allocate funds for operating and marketing expenses to ensure smooth application functioning.
Prior to developing your cryptocurrency trading app, it is crucial to take into account the details mentioned above. Thorough research is essential, and you must have a complete model and preliminary application graphics to start on the right path. Assembling a competent team is no less important for creating a successful cryptocurrency trading app. It is essential to partner with the right company to operate the development process successfully and transform your vision into a reality. Geniusee is here to take any challenge and deliver the best solution for you!