Attention all Netflix users, brace yourselves for some bad news. It appears that Netflix, the global streaming giant, has had a sudden change of heart and is cracking down on password sharing. Yes, you heard that right. In a move that has caused an uproar among its loyal fans, the company has decided to put an end to the age-old practice of borrowing login credentials from friends and family. Many are left wondering now how to bypass Netflix password sharing or ways to hack Netflix passwords.
The new rule comes as a shock to many, especially since Netflix tweeted back in 2017, "Love is sharing a password." Well, it seems like Netflix's love for password sharing was short-lived as they are now making it harder for users to log in from different devices, even if they're family or friends.
But don't panic just yet. Some of you may be wondering what this means exactly. Wasn't password sharing always against Netflix's rules? Can you still split the cost of a subscription with your roommate? And how on earth will Netflix stop password sharing when you're allowed to use your account on different devices and in different places? Fortunately, it's not as complicated as it sounds. We're here to break it down for you, and explain how this new policy will affect you and your Netflix experience. So, if you're one of those who are looking for answers, read on.
In this article, we'll delve into the nitty-gritty of Netflix's new policy on password sharing, what it entails, and how it plans to enforce it. We'll explore what the terms of use state about password sharing, and how the company has implemented the new policy. We'll also provide some tips and tricks on how to avoid getting caught and ways to make the most of your subscription without breaking the rules.
So, grab a bucket of popcorn, put your feet up, and get ready for some serious Netflix talk. We promise to make it fun, informative, and maybe a little snarky. After all, we could all use a good laugh right now, especially since Netflix seems to have forgotten its tweet from a few years back. But fear not, we're here to help you navigate through tips to bypass the Netflix password sharing rule and ensure you get the most out of your beloved streaming service.
Netflix's plan to put an end to password sharing

Netflix's new password-sharing rules entail that any account that fails to log in to Netflix on the primary location's WiFi within a 31-day period will lose account access. Also, if there is no additional member paid for on the primary account, Netflix will deny anyone outside the primary location access.
It's unclear whether Netflix intends to introduce a distinct version of its new password-sharing rules from the test program it conducted in Latin American countries. The updated rules, which have since been withdrawn, did not provide for the additional member payment option; only the 31-day login requirement was in place.
as of now, Netflix has planned to curb the falling membership by introducing a 2FA – two-factor authentication. To log in to Netflix one has to enter by inputting a code. You will be prompted with the message:
"If you don't live with the owner of this account, you need your own account to keep watching."
Is Netflix password sharing illegal?
As we mentioned earlier, Netflix has historically been pretty lenient about password sharing. The company's terms of service state that an account is meant to be shared within one household. However, it's no secret that many users have taken advantage of this by sharing their login credentials with family and friends who don't live with them. This practice has been so widespread that it's become a bit of a running joke. Back in 2017, Netflix itself tweeted, "Love is sharing a password." But as we all know, love doesn't always last forever, and it seems that Netflix has decided to crack down on password sharing once and for all.
So, is Netflix password sharing illegal? The answer is a bit complicated. Technically, sharing your password with someone who doesn't live with you is a violation of Netflix's terms of service. However, it's not necessarily illegal. There are no laws that specifically make password sharing a criminal offense. That being said, Netflix is well within its rights to take action against users who violate its terms of service. The company has stated that it plans to use "geolocation tracking" to detect and prevent password sharing. This means that if you're sharing your login credentials with someone who doesn't live in the same household as yours, you could be at risk of having your account suspended or even canceled.
The bottom line is that while password sharing may not be illegal, it's still a violation of Netflix's terms of service. If you're sharing your account with someone who doesn't live in your household, you could be putting your account at risk. It's up to you to decide whether the risk is worth it. If you choose to share your account, we recommend doing so only with people you trust and who live in the same household as you. And remember, Netflix allows you to create multiple profiles, so each member of the family can have their watchlist and get personalized recommendations.
Also, Read | What are the best Action Thriller movies on Netflix of all time?
Netflix password sharing: Does it come at an extra dollar? If yes, how much?
If you're someone who's guilty of sharing your Netflix password with your friends or family, you may want to brace yourself for some changes. According to a recent report by The Verge, Netflix plans to enforce its password-sharing rules more broadly by the end of the first quarter of 2023. This news may come as a surprise to some, as sharing passwords with members of your household has always been allowed by the streaming giant. However, sharing passwords with people outside of your household has never been allowed, even though Netflix has historically been lenient about this.
In its earnings announcement on January 20, Netflix wrote that "while our terms of use limit the use of Netflix to a household, we recognize this is a change for members who share their account more broadly." The company also revealed that it plans to roll out paid sharing, which means that members in many countries will have the option to pay extra if they want to share Netflix with people they don't live with.
Currently, Netflix is testing the end of password sharing in some Latin American countries, including Costa Rica, Chile, and Peru, by charging $3 to people who wish to use their friend's Netflix accounts. It has stepped up its efforts in preparation towards password sharing more extensively "in the coming months". 4 more countries have reported the move on February 9 — Canada, New Zealand, Portugal, and Spain. For adding extra users, subscribers in Canada, New Zealand, Spain, and Portugal will be charged CA$7.99, NZ$7.99, 5.99 euros, and 3.99 euros respectively. The policy is expected to be rolled out in the U.S. in March 2023.
To enforce these new rules, Netflix plans to use IP addresses, device IDs, and account activity to track users. While the company expects a "cancel reaction" in each market, it believes that the long-term benefits of people paying for additional accounts will result in "improved overall revenue." It seems that Netflix password sharing will soon become a thing of the past. Whether you're in favor of the change or not, it's important to be aware of the new rules and how they will affect your Netflix experience.
Netflix uses multiple factors such as IP addresses, device IDs, and account activity to determine where an account is being accessed from and on which device. The platform also has a "manage primary location" setting that uses WiFi during verification to determine the account's primary location. It is important to note that only a few countries in Latin America have this feature. Nevertheless, regardless of location, Netflix still uses IP and device information to track who is logged into the account.
What are some potential workarounds to bypass Netflix password sharing?
Method 1: By using a VPN
Streaming Netflix has never been easier, thanks to the availability of Virtual Private Networks (VPNs) that allow you to access geo-restricted content from anywhere in the world. By using a VPN, you can bypass Netflix's regional restrictions and this may also come as a crackdown on Netflix password sharing. Also, one can open the home IP as a proxy server and the devices just use the proxy server. Netflix tracks passwords only by IP, so a home VPN can hack Netflix password sharing rule. The other is using dynamic IPs to stream Netflix content.
Here's how to use Netflix via VPN, along with some popular VPN services to consider.
How to hack the Netflix password sharing rule using a VPN?
Step 1: Choose a VPN provider
The first step in accessing Netflix via VPN is to choose a VPN provider. Here are five popular VPN services that offer either paid, unpaid, or free trial versions:
ExpressVPN – Paid
NordVPN – Paid
CyberGhost – Paid and Unpaid
Surfshark – Paid and Unpaid
Hotspot Shield – Paid and Free Trial
Step 2: Download and install the VPN app
Once you have chosen your preferred VPN service, download and install the app on your device. Most VPN services have apps available for all major platforms, including Windows, Mac, iOS, and Android.
Step 3: Connect to a VPN server
After installing the app, open it and select a VPN server in a country where the content you want to access is available. For instance, if you want to watch US Netflix, connect to a server in the United States.
Step 4: Launch Netflix
Once connected to a VPN server, launch Netflix on your device. You should now have access to the content that is available in the country where the VPN server is located.
Step 5: Enjoy streaming
Now that you have successfully connected to Netflix via VPN, you can enjoy streaming your favourite shows and movies without any restrictions.
Hacking a Netflix password sharing using a VPN has its downside. Everyone remotely using the same VPN connection will be forced to consume bandwidth in both downloads and uploads. In most residential connections, download speeds are super high but the upload speeds suck. If it's just one person at a time streaming, then the bandwidth is not a big issue otherwise it won't take long to max out the upload speed.
Method 2: Using a video downloader tool
If you're looking for a way to share Netflix videos with others, one option is to use FlixiCam, a video downloader designed specifically for Netflix. With FlixiCam, you can download Netflix videos and transfer them to anyone you want to share them with. One of the benefits of using FlixiCam is that the downloaded videos do not expire like those stored in the Netflix app. Additionally, there are no limits on sharing, so you can share the videos with as many people as you'd like. This can be a great solution for anyone who wants to share Netflix videos with friends or family members who may be located in different parts of the world or who don't have their own Netflix accounts.
As per Flixicam, "FlixiCam is a handy tool that can help you download any Netflix videos in MP4/MKV files, thus ensuring you can share unlimited videos with whomever you want. You can get up to 1080P resolution videos by using FlixiCam, and Dolby 5.1 surround sound will greatly increase your watching experience. Additionally, multilingual subtitles are available to meet different needs. FlixiCam can be downloaded on both Windows and Mac devices for free."
In addition to its commitment to legal compliance and never circumventing DRM copy protection, FlixiCam also offers a free and standalone media player that allows you to watch thousands of Netflix or Amazon videos instantly. This media player is a convenient feature that complements FlixiCam's downloading capabilities, and it provides a hassle-free way to enjoy your favorite movies and TV shows without the need for a separate streaming device or platform.
FAQs
Can one use the same Netflix account in two different houses?
Netflix has clarified this, it says that Netflix accounts are intended for sharing within a single household, meaning that only people who reside in the same location as the account owner should have access. If individuals outside of the household wish to watch Netflix, they will need to create their own accounts.
In several countries, including Canada, New Zealand, Portugal, and Spain, Standard or Premium plan members have the option to add an additional sub-account for up to two individuals outside their household. This includes separate profiles, personalized recommendations, and individual login credentials.
The cost for each additional sub-account is CAD$7.99 per person in Canada, NZD$ 7.99 in New Zealand, Euro 3.99 in Portugal, and Euro 5.99 in Spain, and is available to those who subscribe to the Standard or Premium plans.
Sharing passwords with family members has been a common practice among Netflix users, but the company has recently taken steps to enforce its policy that discourages password sharing. If you're looking for a good replacement for Netflix that allows you to share your account with family members, here are a few options to consider:
Amazon Prime Video
Disney+
Hulu
HBO Max
Crunchyroll
While Netflix may be cracking down on password sharing, there are still plenty of other streaming services that allow you to share your account with family members. Consider these options when looking for a good replacement for Netflix.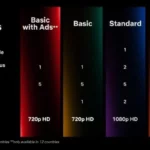 If you are a Basic or ad-tier plan subscriber, you need to upgrade to Netflix's Standard plan or a plan higher than Standard. This will help in adding an extra member. But you need to pay two more fees for sharing videos.
Beyond that, the extra member is required to set up a sub-account in the same nation as the account owner. In other words, if you want to share your Netflix password with your friends or family outside your base location, it is not possible now
At PhonesWiki, we do not want you to engage in anything illegal and be reckless about Netflix's new policy to end password sharing. Always keep in mind that stepped-up security is a pain, but it helps in keeping cyber threats at bay. Do share with us your views and pain areas in the comments box below.