Before jumping straight to our focus topic- Berserk 364, let us take you to an ideal situation. Imagine a scenario where you suddenly come across a great musical piece on Spotify. You Google a bit and find out that the particular musical band/singer is still alive and creating wonders. Imagine the happiness it will give you. Such was the case with the longest-running and best selling manga 'Berserk'. For decades until May 2021 took away the beloved author, Kentaro Miura who passed away due to heart complications.
The sorrowful passing away of the legend alongside the grieve that Berserk 363 might be the last ever chapter shook the manga world. However, Young Animal Comics relieved some of the tension by announcing the publication of Berserk 364. This chapter, however, might be the last work of the legendary author and artist Kentaro Miura.
Early preview of Berserk Chapter 364 out
The publishers of the series, Young Animal have released a new teaser for Berserk, its last chapter online. It might be the last time when fans will witness popular characters Guts, Casca, and their fellow warriors in one place.
Berserk Chapter 364 preview, the first chapter to drop in since its creator Kentaro Miura's death can be visited in the tweet below:
Berserk 364 Leaks (Spoiler Alert!)-
Will Berserk 364 end with a fateful three-way match between Caska, Grifis and Gatsu ?
Berserk 364 will be a continuation of the story from chapter 363. According to the preview, we can expect the encounter of Guts with the mysterious kid who has appeared and disappeared several times during his journey in the past chapter. Berserk 364 chapter will mark the meeting of Casca with the kid. It will be their first meeting since Casca last lose her sense.
Furthermore, the preview revealed that chapter 364 will feature a mysterious character whose white hair resembles that of Griffith himself. Whether the man is Griffith himself is yet to be discovered. The mysterious identity might get uncovered in this chapter. One can also spot a small figure coming out of a door having a slender figure somewhat similar to Caska.
There is another spoiler we have ahead of the schedule. It is reported by Young Animal magazine and spotted by well-known Japanese leaker Ryokutya. In his blog full of cryptic and enigmatic comments on the chapter, he says
"I've read the latest Berserk chapter, 364. The two are the same, and here … but the continuous now … (only tears). It's really a pity, how sad. My deepest condolences. "
The cryptic message "the two are the same" appears to indicate a character who is actually another person. It in a way confirms some theories on the preview of Berserk 364 last month. Regarding the series coming to an end, Ryokutya neither confirms nor denies the end of Berserk.
Till we get an official word, all we can do is wait. In the meantime catch hold of "Berserk" tribute illustration by Chica Umino author of (March comes in like a Lion) in the latest Young Animal issue 18/2021.
It says
"All the way back to the day we met, you'd always carry sweet treats with you, you'd always be smiling. Not even briefly, have I seen you let bad-temper show on your face. When the day we can meet again comes, I want to talk a lot about manga with you once more."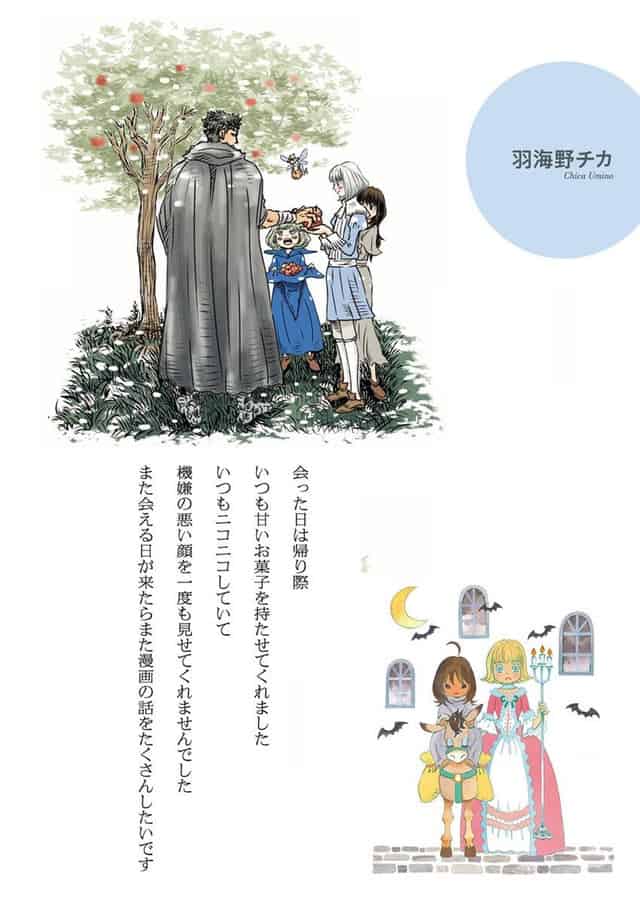 Berserk 364 release date
Renowned for its dark plots and shady characters, Berserk is undoubtedly one of the best pieces of work in the Japanese Manga World. The last chapter, Berserk 363, came out on 22nd January this year. While fans were waiting for another chapter, the sudden death of Miura caused havoc.
To everyone's relief, Young Animal Comics didn't take much time to clear out the confusion and announced the official release date of Berserk 364. The next chapter was rumored to come out in April but got delayed. Miura himself drew 99% of this chapter. However, we have a date now.
According to Young Animal Comics official statement, the issue is all set to release worldwide on 10th September 2021. Yes, that is exactly a month from now!
A few days ago, the French account of Team Manga had revealed that Kentaro Miura's masterpiece Berserk is returning with chapter 364 on Young Animal 18/2021.
According to a statement released by Young Animal, the issue of Berserk 364 will accompany a poster and a booklet dedicated to the late author. Moreover, one section of chapter 364 will receive a colored page. The poster will feature some of the best and iconic scenes from the manga.
The memorial booklet will be titled 'Messages to Kentaro Miura.' It will feature messages from Miura's closest friends and colleagues in the manga world. Names include Akkiu, Nico Nicholson, Shizuya Wazarai, Ena Moriyama, Kouji Mori, Tamami Momose, Katsu Aki, Chica Umino, Satoru Akahori, and more.
Berserk Volume 41 has a release date
The Hakusensha publishing house has announced the release date of Volume 41 of Berserk, Kentaro Miura's manga. It will be released in two versions, Standard and Deluxe. Berserk Volume 41 release date has been set for December 24, 2021, Christmas Eve. It is likely that Berserk Volume 41 will be the last due to the death of the mangaka Kentaro Miura.
Hakusensha on Amazon has displayed the Berserk Volume 41 Deluxe Edition. It will contain a Drama CD and the canvas painting visible at the bottom (23.9cm x 8.7cm). The volume is available for preorders in Japan at a price of 3,960 yen (approximately € 30).
Berserk Volume 41 will contain chapters 358 to 364 inclusive, with the latest coming out on Young Animal on September 10th.
Where can I read Berserk 364 online?
Once the chapter gets released, fans can access the digital version of the anime via readberserk.com. The website is completely free and, you can directly read or download chapters from there.
Is Berserk chaper 364 the final chapter?
As of now, it is very unclear whether there would be any more chapters of Berserk after chapter 364. No revelation regarding the future of the manga has been made yet by Young Animal Comics. However, it's kinda interesting that they are advertising it as "the newest chapter" and not the "final" or "last" chapter. From a marketing perspective, that's basically a confirmation that it's not the last of Berserk in the manga.
The deafening lack of scarcity pain points in their official announcement, not even an, "almost the end," or, "last Miura episode" has raised suspicion. It leads one to wonder about possibly a minimum of a few more episodes with big publicity on the countdown. Maybe the magazine company has a lot of material in production, but are waiting for things to be completed, or possibly refining ideas.
So that's all we have for now. We will come back for more once Berserk 364 is released. Till then, stay in touch with us.