Fans of Attack on Titan have an exciting development to anticipate as the epic series nears its conclusion. Hajime Isayama, the creator, has unveiled thrilling news: a new 18-page manga titled "Bad Boys" is set to release on April 30, 2024. This manga release is in sync with the highly awaited launch of the 'first and final' Attack on Titan artbook titled "Attack on Titan Fly," comprising 200 pages of vividly colored illustrations curated by Isayama.
The much-anticipated "Attack on Titan FLY" project, an extensive 200+ page art book, is set to include 18 pages of brand-new manga content, collated into a new 35th volume. Additionally, the art book will showcase freshly crafted artwork for the concluding chapter, all brilliantly colored by Hajime Isayama himself. The release is scheduled for April 30, 2024, marking the commencement and conclusion of the Attack on Titan series. This art book, a unique pre-order exclusive, is a collector's item for fans.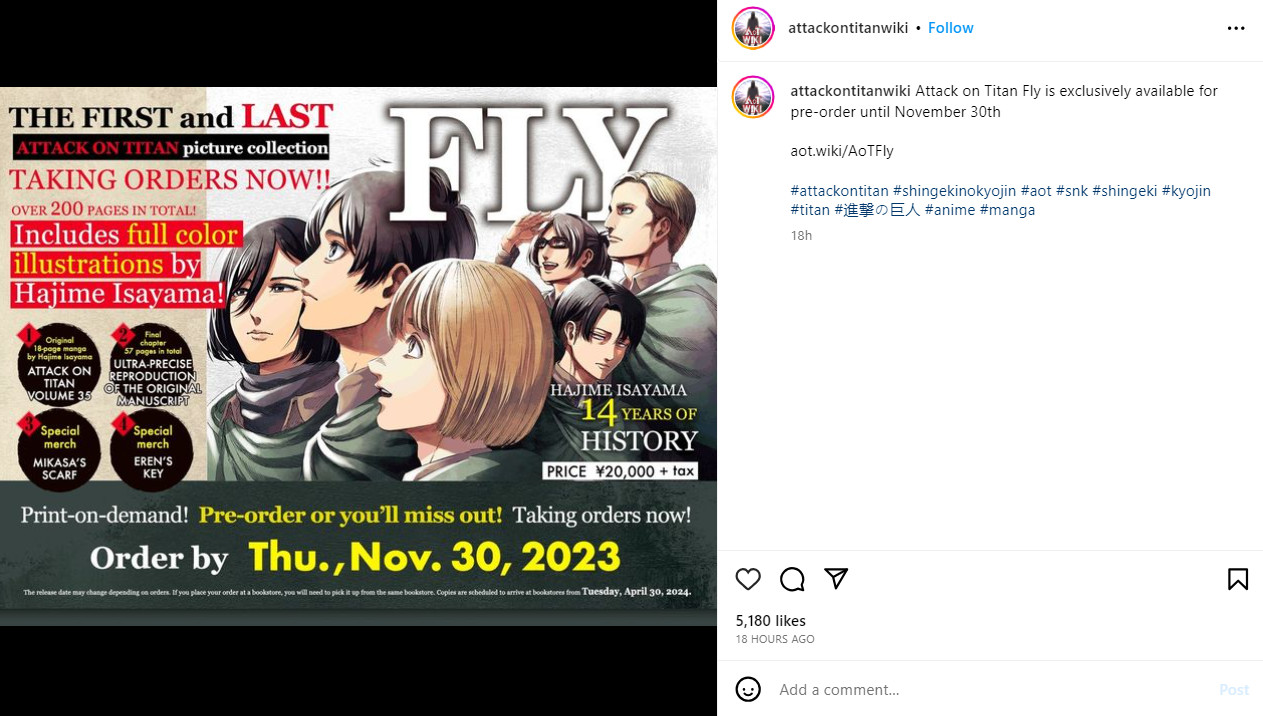 As fans count down to the final part of Attack on Titan Season 4, Hajime Isayama's recent message has sparked excitement, unveiling the Fly artbook. It's important to note that this special artbook is limited to pre-orders and won't be available for commercial purchase once it's sold out, adding to its exclusivity and making it a coveted piece for dedicated fans of the series.
Attack on Titan FLY Art Book Pre-order
For die-hard fans of the Attack on Titan series, the pre-order phase for the Attack on Titan Fly artbook kicks off on October 3, with pre-orders closing on November 30. It's crucial to note that this launch is exclusively pre-order-based. Once the initial stock of Attack on Titan Fly art book is depleted, the art book will not be made available for retail or commercial sales, even after its official publication on April 30.
This comprehensive 'Attack on Titan: Fly' artbook is a treasure trove, housing a wealth of content—over 200 pages direct from the manga. Inside, fans will find early sketches from Isayama and his team, exclusive merchandise, and fresh color pages contributed by the series' assistant. It contains all color illustrations drawn by Hajime Isayama. It is packed with 35 volumes of the newly drawn manga "Akudo" and 4 other gorgeous bonuses!
Adding to the excitement is an 18-page bonus volume named 'Bad Boy,' which, as the official preview suggests, contains a "top-secret final draft." However, the specifics regarding its contents are intentionally kept under wraps, adding to the intrigue.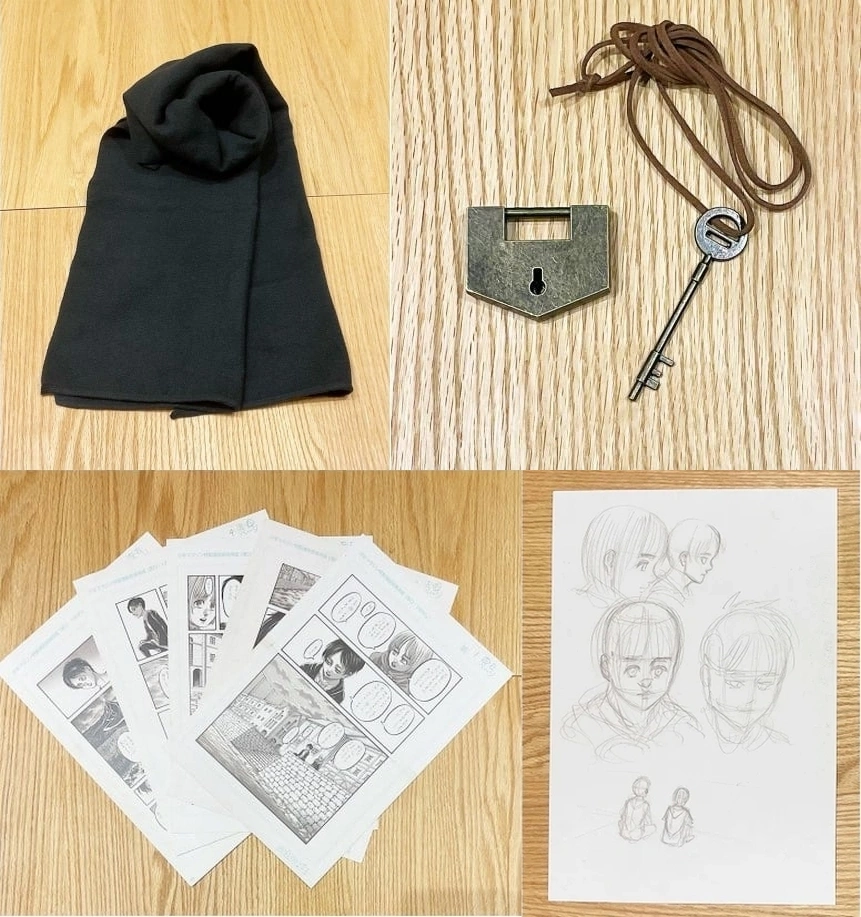 Presented in B4 format, the Attack on Titan Fly book is priced at 22,000 JPY (approximately 147 USD) and comes bundled with Mikasa's scarf and Eren's key. The items, along with the new manga content and newly drawn art, are all regarded as bonus inclusions.
This pre-order-only approach emphasizes the urgency for fans to secure their copies of Attack on Titan: Fly and the special bonus volume. Delaying the pre-order might result in missing out on this limited edition forever.
"Attack on Titan" is an acclaimed manga series penned by Hajime Isayama, serialized in Kodansha's Bessatsu Shonen Magazine from 2009 to 2021. The manga reached its conclusion in April 2021, spanning 139 chapters neatly compiled into 34 volumes. The series' final volume, the 34th, graced readers in June 2021. Hajime Isayama made a notable appearance at Anime NYC the previous year, where he candidly discussed the conclusion of his monumental series, showcasing his self-critical nature and his concerns about how it would be received.
Accompanying the announcement of the Attack on Titan Fly artbook and its commencement of pre-order sales, author Hajime Isayama conveyed a heartfelt message to the fans.
The anime adaptation of "Attack on Titan" debuted in 2012, swiftly earning international acclaim. Initially produced by WIT Studio and later taken over by MAPPA, the anime brilliantly brought the narrative to life, captivating a global audience.