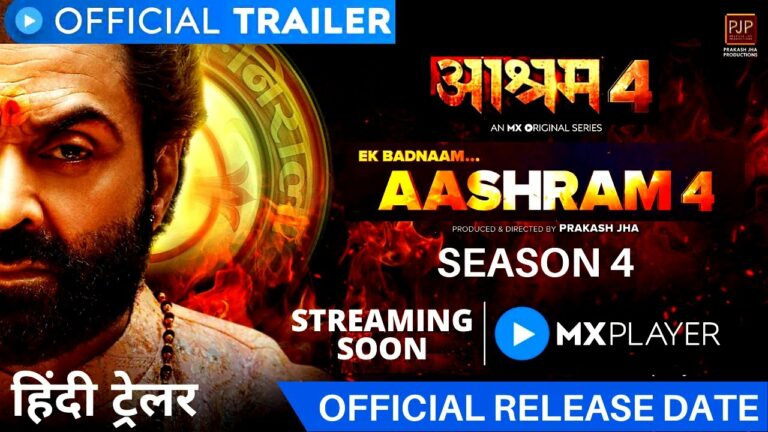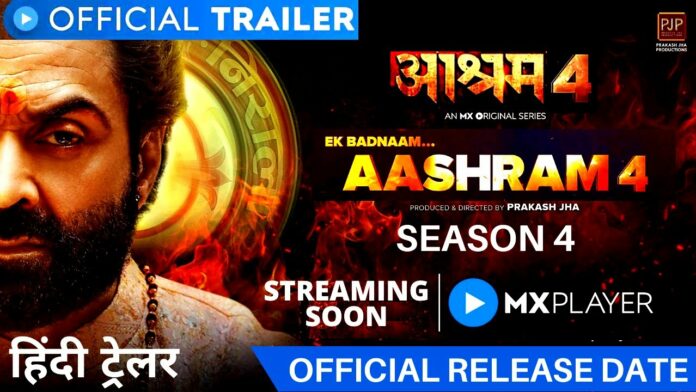 The release of Ashram Season 3 on 3rd June on MX Player has stirred the demands for Ashram Season 4 from the viewers. Prakash Jha-directed drama web series have gained wide applause for its bold and relatable storyline. Prakash Jha's shows are known for depicting society's problems, power, and politics through his daily shows and bringing it to the audience in captivating ways.
"Ek Badnaam" Aashram 3 release happened on 3rd June. The day was full of surprises with the Ashram 4 announcement coming up.
Bobby Deol took to his Instagram handle to make the special announcement. He shared the teaser on his Instagram account describing himself as an intimidating 'antaryami' who knows everything. We can see Baba Nirala declaring himself above law after leveling up as Bhagwan (God) in Ashram Season 3. In one of the scenes, Godman can be seen getting harsh with a policeman about how he can arrest a God.
The one-minute-long teaser featured Baba being arrested where one can hear him saying "Bhagwan hum hain. Tumhare kaanon se upar. Swarg banaya hai maine. Bhagwan ko Kaise arrest kar sakte ho (I am God. I am above your law. I have created this heaven. How can you arrest God)."
One gets a surprise glimpse of Pammi (Aaditi Pohankar) who has come back to the ashram but with a plan in mind. The twist in the Ashram saga doesn't end here. Before the end of the teaser, Pammi can be seen in a bridal outfit.
Aashram 4 teaser is like a cherry on the cake for fans. In less than five hours since the video was posted, the teaser has gathered 53,000 likes with more than 1.74 Lakhs touching now. Ashram has been rated 7.5 out of 10 on IMDB making it one of the highest-rated Hindi web series in India. The top-rated episode according to IMDB is 'Pran-Pratishtha' from Ashram season 1.
After the hype created by the first 3 seasons of the series, it would be interesting to see how the series moves forward in Ashram Season 4. The erratic storyline and genuineness in the show have raised their expectations from Ashram 4.
What will be Ashram Season 4 Release Date
Whilst fans of the MX Player original series are understandably celebrating the announcement of Aashram Season 4, not many are too surprised by the news of Baba's return.
As the teaser of the Ashram Season 4 is already out, so we can guess shooting has been done already. With that, we presume the makers will not hold us long to release the next chapter. Henceforth, Ashram Season 4 is speculated to get released in the second quarter of 2023, a year after the makers released the teaser. Though there is no official announcement yet!
Ashram Season 4 Trailer
Fans are waiting eagerly for the release of Ashram 4 with the release of the teaser for Ashram Season 4. Check it out. As the Ashram 4 release date draws near, the makers will release Ashram Season 4 Trailer. Till then stay tuned to this page.
Who will be part of the Ashram Season 4 Cast?
The storyline shows Nirmal Baba who claims himself to be the god, but in reality, Baba Nirala is a conman turned godman, who ensures that his devotees devote their wealth to him and stay attached to the ashram for life. In the meantime politicians, Hukum Singh (Sachin Shroff) and incumbent CM Sundar Lal (Anil Rastogi) vie for his support in the upcoming State Legislative Assembly Elections owing to his large number of followers, which only increase after a pop singer, Tinka Singh (Adhyayan Suman) decides to conduct tours with Baba Nirala to promote his new song.
The following major cast from the first 3 seasons of Ashram is expected to return back in Ashram Season 4.
Bobby Deol as Kashipur Waale Baba Nirala / Monty Singh
Chandan Roy Sanyal as Bhopa Bhai/Bhopa Swami/Bhupendra Singh
Aaditi Pohankar as Parminder aka Pammi
Tushar Pandey as Satti aka Satwinder Lochan
Darshan Kumar as SI Ujagar Singh
Anupriya Goenka as Dr. Natasha
Tridha Choudhury as Babita
Vikram Kochhar as Sadhu Sharma
Anil Rastogi as CM Sundar Lal
Sachin Shroff as Hukum Singh
Anurita Jha as Kavita
Rajeev Siddhartha as Akki
Jahangir Khan as Michael Rathi
Adhyayan Suman as Tinka Singh, a famous pop singer
Keshav Pandit as Kavita's father
Mala Sinha as Kavita's mother
Rupesh Kumar as Nonny, Pammi's cousin
Navdeep Tomar as Sunny, an Aashram Goon
Akhilesh Tripathi and Jigesh as Baba's sons
What will be Ashram Season 4 Plot
Ashram unfolds Bobby Deol as the protagonist who is seen playing the role of Nirala Baba on the screen. It shows how a spiritual leader takes undue advantage of their followers, who majorly are comprised of the disadvantaged sections of society.
Aashram Season 4 is expected to be more exciting and intriguing than its previous seasons. Baba Nirala is claiming himself to be above everything, even the law, in Ashram Season 4, and he protests his custody, claiming that no one can arrest God. Pammi, on the other hand, who had left the Aashram in Ashram Season 2 and had dragged the charlatan to court in Ashram Season 3, allegedly freely returns to the Aashram.
Pammi is also suspected to get married in Ashram Season 4, as she is seen getting ready as a bride. However, Bhopa Singh, Baba's deputy, warns Pammi to keep away from the godman, commonly known as Baba Nirala.
Ashram series is available on which app?
If you have watched Ashram Season 1, 2, and 3, undoubtedly you will be waiting for the next series fully loaded with thrill, action, and crime. All the episodes are streaming for free online on MX Player. If you want to enjoy uninterrupted ad-free streaming then subscribe to MX Gold.
If you have not watched the previous two seasons all episodes are available and can be viewed after downloading the MX Player app for free on desktop, Android, and iOS platforms.
The web series is not streaming on major platforms like Netflix, Amazon Prime Video Disney+ Hotstar, Voot, and ZEE5.
Stay tuned to know what's next!
With the teaser already out, we know that fans are eagerly waiting for the release of Ashram Season 4. The teaser release has though given a confirmation for Ashram Season 4, at the same time, it has also increased the demands for Ashram Season 4 from fans. To know more and get the latest updates on Ashram Season 4, stay connected with PhonesWiki.