The finest of wines are often the ones that'd aged a bit. But, never have I thought that I would use a reference of Solo Leveling manga/manhwa. With that said, Solo Leveling really has a lot going for it. Its immense popularity and rise to stardom are definitely unexpected. A Solo Leveling anime adaptation is expected to occur sometime soon. Here's our take on the matter encompassing most of the details we have at hand.
What is Solo Leveling manhwa?
Solo Leveling (나 혼자만 레벨업; Na Honjaman Rebereop; lit. I Alone Level Up) is a South Korean web novel written by Chugong. It was serialized in Kakao's digital comic and fiction platform KakaoPage on July 25, 2016. It was later published by D&C Media under their Papyrus label on November 4, 2016. The Solo Leveling novel has been licensed in English by Webnovel under the title Only I Level Up.
The Solo Leveling light novel plays into the idea of dungeon gates that open into the human world, with "Hunters" tasked with defeating the monsters inside. Our protagonist Sung Jin-Woo, is an E-Rank hunter who's barely stronger than an average human. Fast-forward a couple of arcs and he becomes one of the strongest hunters in the world.
In the meantime, Solo Leveling manhwa has reached its THE END with Chapter 179. Solo Leveling Chapter 179 will be released on Thursday, December 30, 2021.  It's a sad day for the fans as they are jolted out of their dreams, clueless about what to read next.
Is Solo Leveling getting anime adaptation?
The internet has given the verdict that Solo Leveling deserves to have TV adaptation anime. A recent poll released by Anime-Japan 2021 has indicated Solo Leveling in second place.
Solo Leveling lets one enjoy the character progression arc. You get to see the protagonist gradually improve and become stronger instead of the usual boring trope of an OP-protagonist.
Forums on Reddit and Twitter have gone berserk and demanded an anime adaptation. With the rising popularity, it is almost guaranteed that the Solo Leveling manga will be taken up for adaptation at some point in the future.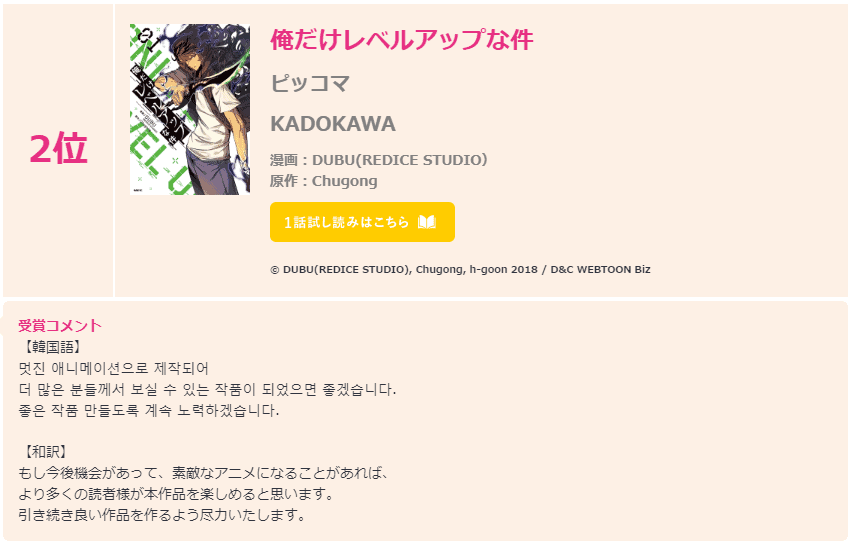 Petitions on Change.org are also present so don't feel shy to leave your upvote in favor of the movement. The current number of petitions is somewhere around 200,000 right now. Though, the rate at which the petitions are being signed does indicate a much higher number.
YouTubers reviewing manga and anime call it the story that SAO should've become. Sword Art Online has had massive amounts of disappointment stacked against it. Its primary cause for such upheaval was the lack of a proper story.
The tide is turning in favour of the demand for an anime adaptation. It is rumoured that the K-pop boy group, The Boyz will be singing an OST for Solo Leveling (with MV) and it will be released in February 2022. This is a huge scoop if it turns out to be true.
Is Solo Leveling anime under production? Any leaks?
There have been speculations on the basis of leaks about Solo Leveling anime in the works. The recent one was discovered on Weibo, the Chinese social network site. It informed that the production of the webtoon Solo Leveling anime by Gi So-Ryeong and Jang Sung-Rak was in progress.
Another source of the leak was found on a Korean website, Hankyung. It carried an interview with the CEO of Noble Comics Company, an in-house independent company of Kakao Page. Hyun-soo Hwang said stressing enough on the popularity of the webtoon manhwa.
"I am also promoting ways to make Solo Leveling (Only I Level Up) as games, animations, dramas, etc. and we are discussing proposals from various production companies."
Why Solo Leveling is not animated till now?
Undoubtedly, the anime will be a runaway success, especially after the Tower of God anime received a stupendous response. The biggest hiccup to Solo Leveling Webtoon adaptation failing to happen is being attributed to Japanese production studios. In a few arcs of the Korean manhwa, the Jeju island arc between the two countries is shown already at "war". Japan is shown as a two-faced country. 2 Japanese S ranks, including the strongest Japanese S tank hunter, get killed in like 2 seconds.
For obvious reason, no Japanese animation company will go ahead and animate showing Japan to be a bitch. Don't think even a Korean animation company can animate it. Either way, which every country animates it, it's still bound to be controversial.
However, for a Korean manhwa that has rather controversial tones on the Japanese side of things there sure seems to be a lot of popularity. Although the justification that quality rules quantity might be true after all?
Solo Leveling Anime Release Date
As of now, we don't have too many expectations for the webtoon adaptation's release in 2021. Since no production company has come forward for anime adaptation, however, all hearts go out to Jin-Woo in hopes that he will hit the TV screens soon.
Some of the top studios like Mappa, Ufotable, or Wit are in demand to handle the animation side of things. Maximum votes have gone in favor of MAPPA who fans feel will do justice.
After the studio gets its approval for animating it into a series there's a pretty long gap of 7 to 12 months before the season gets aired. Also, the spring and winter releases this year of 2021 have already been covered.
Taking into account the best possible scenario, if Solo Leveling webtoon adaptation is revealed in the coming 6 months, it will be Summer 2022 when Season 1 will premiere. If the announcement comes in Fall 2021, Solo Leveling Season 1 will debut in winter anime 2022. Releasing it without prior information beforehand might deal a little injustice to the show itself.
There are strong rumors of Spring 2022 holding plenty of possibilities. One such recent rumor has a Solo Leveling MUSIC VIDEO confirmed for 2022.02.
Regardless, I believe we could all do our part to make sure the adaptation is made. Currently, the Official Japanese Light novel version has been released. Despite taking steps in the right direction fans are still waiting for news of the anime production.
Solo Leveling Trailer
D&C Media raised hopes with their hinting at a possible anime release trailer for Solo Leveling. Check out below
Solo Leveling Season 1 Anime Episodes
On MyAnimelist the Solo Leveling manhwa is ranked first enjoying a massive score of 8.86/10 from 140,000+ users. There are other manhwas listed on MAL like Tower of God and The Breaker that have received an anime adaptation. Also, there is no dearth of material. There is one finished web novel and a manhwa covering more than 100 chapters, more than sufficient to produce an anime.
Though there isn't much information right now regarding the adaptation, we can safely assume on the basis of manhwa about episodes coming in Solo Leveling Season 1 anime.
Based on the manhwa we can expect anywhere between 20 and 25 episodes for Solo Leveling Season 1. The first season can be split into two cours with 12 episodes and shorter waiting intervals between Seasons.
Where to watch Solo Leveling anime?
Since Japanese animation studios are not coming up forward till the changes are made to the manga, there are few alternatives. South Korean or American animation studios can take up webtoon adaptation. Another alternative is streaming platforms like Crunchyroll and Funimation can produce the series under their original anime banner.
Despite no official confirmation, the fan base continues to grow and clamour for the Solo Leveling webtoon adaptation. Guess we ought to wait and see.
What will be Solo Leveling anime plot?
Solo Leveling anime will adapt the ongoing storyline of manhwa. It talks about the struggles of a weak hunter, Sung Jin-Woo who becomes an S-rank hunter with superpowers. Faced with a stronger opponent D-rank dungeon, he flounders and gets ready to accept death staring at him. Here comes teh twist. Instead of death, he gets powered with a mysterious power to see quest log, similar to games. As he completes quests, his strength followed by rank increases.
That's pretty much all there is on our end. Do you have any opinions about this current situation? Do let us know in the comments below. For more similar content, visit us here.