We all have at least once in our life been in an extremely awkward situation with our phone's wallpapers. The majority of us do not even bother to change the default wallpaper on our screen. Well, this won't be the case anymore. Xiaomi has recently added another MIUI 12.5 super wallpaper to its existing inventory. It is exciting since it will be part of Earth Super Wallpaper based on Greenland. If this does not thrill you to update your wallpapers, nothing will.
You must be wondering why do I need to download the new MIUI 12.5 Super Wallpaper? Well, aesthetically speaking, not only does a cool wallpaper give your phone a fresh look, but it also provides you with a different kind of user experience. The instinct of human beings to run behind beautiful and attractive things is what made the release of MIUI 12.5 wallpaper 4k a big thing.
Why go for simple when you can go for a super wallpaper that will somehow get added to the Android 12 wallpaper list? Sounds exciting? Let us tell you more about it.
About MIUI 12.5 Super Wallpaper
Introduced by Xiaomi as the key feature in their MIUI 12 update, super wallpapers are everything for what you have been waiting for. They have replaced MIUI 12.5 Live wallpaper that has become pretty popular and common.
So what is MIUI 12.5 Super Wallpaper?
Well, MIUI 12.5 Super Wallpaper is basically a remodelled version of the Live Wallpaper. The themes deployed on Xiaomi phones are all-encompassing – morphing the always-on display, the lock screen, and the wallpaper together. There are only about 4 themes included with 12.5, released to date.
MIUI 12 super live wallpaper downloads are planets-themed live wallpapers. As for now, only Mars and Earth-themed Super wallpapers have been released. In phone-locked mode, one can see the wide shot of either the Earth or Mars. On unlock, the picture gets further zoomed into the planet.
Apart from this, there are a few other MIUI 12.5 super wallpaper as well. They involve nature(like mountains), some landscapes, and geometric shapes. All of them are visually extremely attractive. Some people find it difficult to use because they appear to be not the best background for lots of icons. The lighting on the mountain keeps on changing throughout the day and this poses usability issues. However, the mountain-based wallpaper has turned out to be the favourite.
So now, the latest release of MIUI 12.5 paved the way for some more new Super wallpapers. Want to know more about them? Read on.
New Earth MIUI 12.5 Super Wallpaper Released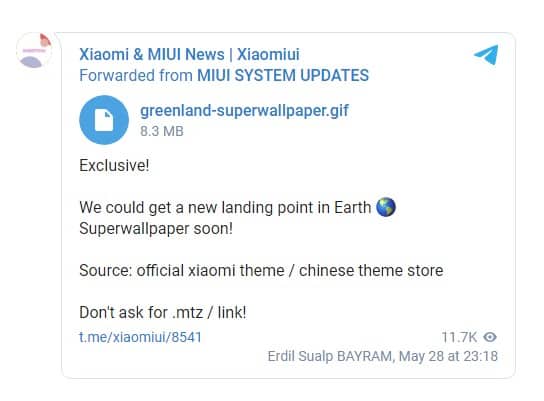 On its Telegram channel, XIAOMIUI shared the news of unveiling a new Super wallpaper with a landing point on earth. It will be based on Greenland and roll out to the Chinese MIUI 12.5 beta channel, to begin with.
List of MIUI 12.5 Wallpaper Compatible Devices
Similar to what happened with the MIUI 12 super live wallpaper download, here too, Xiaomi disappointed its fans with compatibility issues. MIUI 12.5 wallpaper won't be available for all kinds of Android devices. The MIUI 12.5 wallpaper won't even support some of the Xiaomi devices as well. Only a selected few smartphone models would legally get access to them.
MIUI 12.5 Super Wallpapers were initially released for devices that were powered by Snapdragon 8xx. Later on, devs worked to port them on any Android smartphone running on Android 8.1 Oreo or above. As of now, MIUI 12.5 super wallpaper download is available not only on all Mi, Redmi & Poco smartphones but on other Android phones as well.
This is where people usually start googling- MIUI 12 super live wallpaper APK download. Aren't we right? Technically there are very few things in the internet world with no APK file. So yeah, we just gave you the solution to the availability problem. Simply installing the correct APK file on your phone will give you access to MIUI 12.5 wallpaper just like it did for MIUI 12.
MIUI 12.5 Super Live Wallpaper APK Download
For Xiaomi smartphones, download APK file from the location – SuperWallpaper Installer Alpha APK
If you have an Android device apart from Xiaomi, then download Google Wallpapers from the Play Store. All you need to do is install the app and then go to the super wallpaper section. Launch it and, then you can choose your favourite Super Wallpaper.
MIUI 12.5 Super Wallpaper 4K download
– Mars (Light | Dark)
– Mars, the centre of gale crater (Default | Light | Dark)
– Mars Garden (Default | Light | Dark)
– Earth (Default | Light | Dark)
– Earth – Forest (Default | Light | Dark)
– Earth – Ice (Default | Light | Dark)
– Saturn (Horizontal | Vertical)
– Geometry (Light | Dark)
– Snow Mountain
Share with us which Super Wallpaper was your favourite and why.